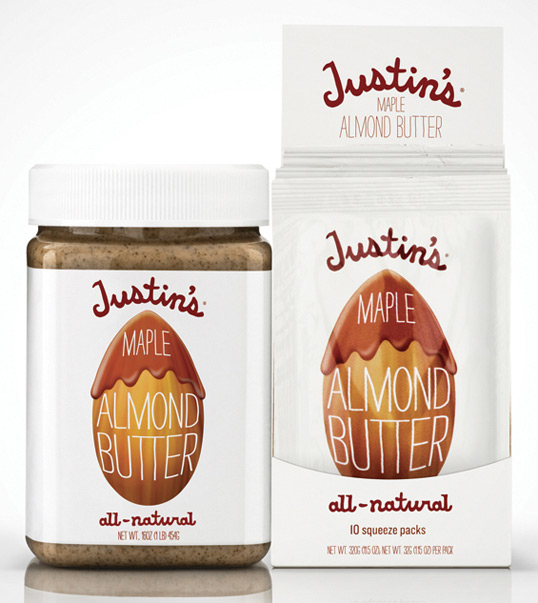 I have a confession to make.
I have an addiction. And I'm in love.
Oh,
Justin's Maple Almond Butter
, so irresistible, just thinking of you gives me goosebumps of delight and leaves me otherwise at a loss for words. But I will try anyway.
I usually get my almond butter fix from the freshly ground almond butter contraption at Whole Foods and was introduced to Justin's by a client who's son was in love with the stuff. I tried some, curious as to what all the fuss was about it. My eyes widened and I'm pretty sure I squealed.
When I went to seek out my own jar, I skidded to a halt at the $9.99 price tag and opted for a couple of the 99-cent to-go packets instead-- the better to temper my addiction with (not to mention they are awesome for traveling, hikes, etc.). I haven't tried any of
the other flavors
(there are 8 in all)-- and I don't see why I should-- because if you are in love, nothing else matters. (Thought I recently just saw that they started making
these
, and I think I am in big trouble).
The jars went on sale a couple of weeks ago and I splurged on a New Year's gift to myself. Currently, a couple of teaspoons serves as my sweet treat or a pre-run snack. I'm trying to keep myself under control, but sometimes, like now, I catch my eyes drifting to the cabinet I've shoved the jar deep into the back of. After giving myself a mental slap on the hand, I did some homework on Justin's and am excited and impressed by their commitment to
quality
,
sustainability
, and
giving back
. Right now they are running a campaign, the "
Sustainable Squeeze Pack Journey
," to use 100% renewably-sourced squeeze pack film that can be home-compostable-- something that currently does not exist. Again, impressed-- I think they are setting a good example for how small companies can inspire big change.
So in short, this stuff is amazing and amazingly simple. Dry roasted almonds, maple crystals, organic palm oil, sea salt. That's it. There is really nothing more it needs other than you, and a spoon.
Photo from Justin's Nut Butter